WAS ONLINE TRACK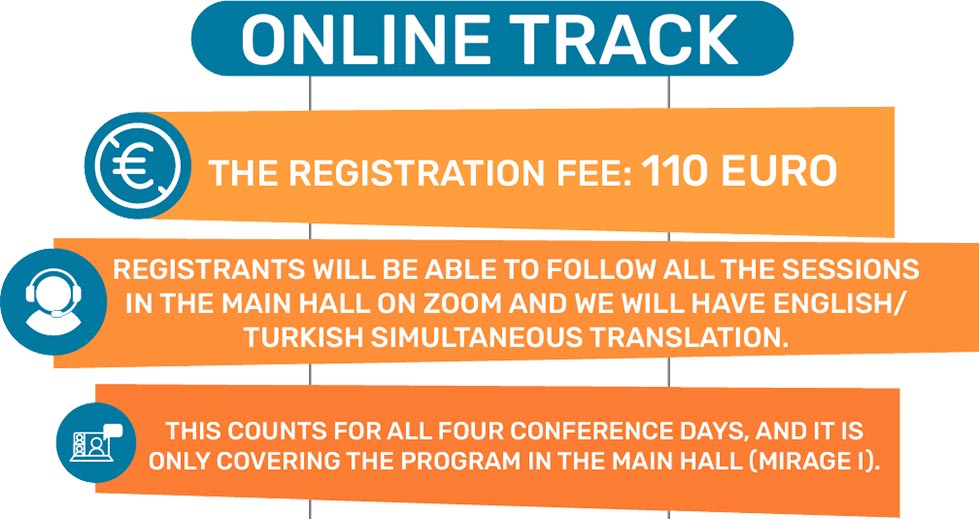 PLEASE CLICK HERE FOR WAS ONLINE TRACK PROGRAM
General Conditions for WAS Online Track:
1. Registration, Confirmation and Access:
Your registration for the WAS Online Track: Your registration will be only confirmed upon receipt of full payment. If you do not receive a confirmation notice before the conference, kindly reach out to our congress secretariat at registration@was2023.org. Please be aware that only participants who have completed their registration will be provided with an access link and code to join the event.
Registration Confirmation Timeline: Expect to receive your registration confirmation within 48 hours following your payment submission (excluding weekends). Please note that if you opt for bank transfer as your payment method, it may take approximately one week to process and confirm your registration.
Online Access via Zoom: Online access to the event will be granted through a Zoom link. It is your responsibility to ensure that your system meets the necessary requirements for seamless participation.
2. Payment and Refunds:
Payment must be made in full to secure registration.
Due to the short-term nature of this offering, please note that no refunds will be provided under any circumstances.
Requests for refunds will not be entertained.
3. Access and Technical Requirements:
Online access will be provided via a designated platform or link ( Zoom).
Participants are responsible for ensuring their systems meet the technical requirements for seamless participation.
Troubleshooting technical issues during the event may not be possible; it is advised to test your setup in advance.
4. Event Schedule:
The WAS Online Track is dedicated exclusively to the sessions held in the Main Hall (Mirage I) only.
The event schedule, including session timings and topics, will be provided in advance.
Changes to the schedule, if any, will be communicated to participants promptly.
5. Recording and Privacy:
The event may be recorded for documentation and future reference.
By participating, attendees consent to their image and voice possibly being captured in recordings.
Privacy and data protection policies apply to all attendees.
6. Code of Conduct:
Participants are expected to adhere to a code of conduct that promotes respectful and inclusive interactions.
Any disruptive or inappropriate behavior may result in removal from the event.
7. Intellectual Property:
Content presented during the event is protected by copyright and may not be reproduced without permission.
Participants may be granted access to event materials for personal use only.
8. Liability and Disclaimers:
The organizers are not responsible for technical issues, interruptions, or disruptions during the event.
The event and its content are provided "as is," and the organizers make no warranties regarding accuracy or completeness.
9. Cancellation or Postponement
The organizers reserve the right to cancel, reschedule, or modify the event due to unforeseen circumstances.
10. Contact Information
Contact details for event organizers or support teams are provided for inquiries or assistance.